I had to make a trip north this week. I realize Tennessee, Arkansas and Missouri are not north to some folks but they are all north of here. It was cold; really cold. We ran into icy roads and high temperatures in the low 20s, so it was the kind of stuff we really aren't used to down here.
We came back to San Antonio on Wednesday night and it was actually chilly in San Antonio, too. I went into the office on Thursday and came home at about 5:30. I took this picture at 6:25…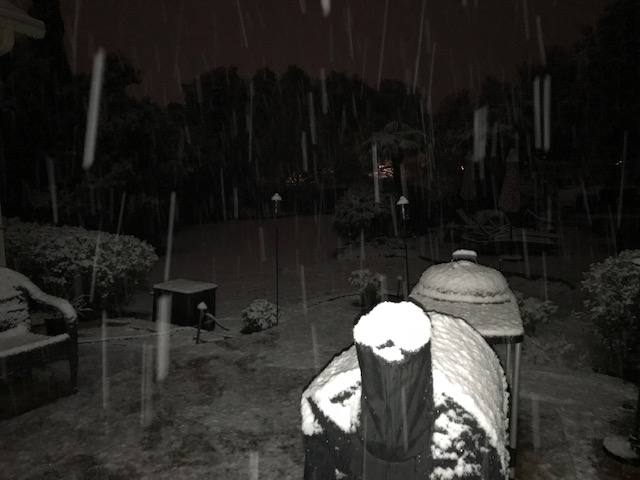 Damn north followed us home. I sent the picture to Peggy in Baton Rouge and she told me it was supposed to snow in Baton Rouge the following morning, too.
Now, the "following morning" is Friday, and I am supposed to be driving from San Antonio back to Baton Rouge. I wasn't counting on bad weather where I am headed; I was just concerned about getting out of San Antonio!
The roads were fine in San Antonio this morning — the ground had been too warm for the snow to stick on major streets. So, I went in to the office and Peggy sends me this picture: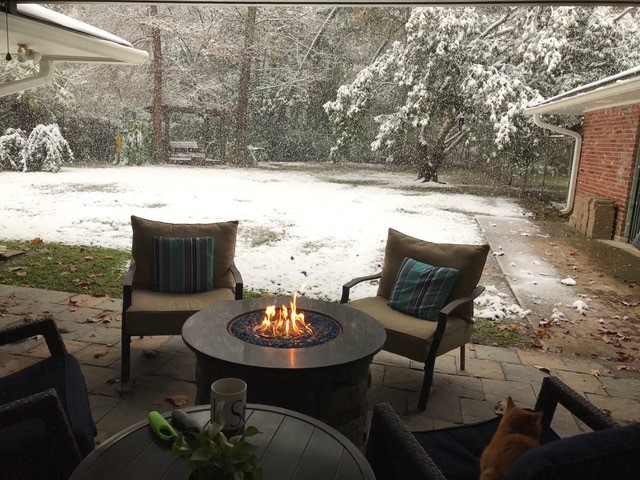 I never really considered Peggy a "one-upsman" but I am pretty sure she trumped me with that one. This is the second-earliest snowfall ever in Baton Rouge, a place that gets snow about once every ten years. The snow started about 3:30 this morning and she and Sandy were outside enjoying the fire and a cup of coffee by 8:00. Well, I'm fairly certain Sandy did not have a cup of coffee.
There is still snow on the ground in both places, but it does not appear that there is any left on the roads. I am leaving San Antonio now to get back to Baton Rouge for the weekend.
Wish me luck!