So, what am I going to say about our time in San Antonio? Well, we loved our home. We welcomed a second grandchild. We had great times with great people. We worked our asses off and still did not succeed, partly due to circumstances beyond our control. I'm sure it will come out in bits and pieces in our new (old) location, but I was so busy working to make our company successful that I really did not have time to write while we were there.
If you look at the timeline since I began this blog, though, you will notice that it is not the first "gap". When we first moved to Baton Rouge in 2014, I was so busy with the new job responsibilities that I did not write for nearly sixteen months. All that to say, "stuff" sometimes gets in the way.
Leaving San Antonio was hard. When this is sunset from your back deck, it is hard to leave.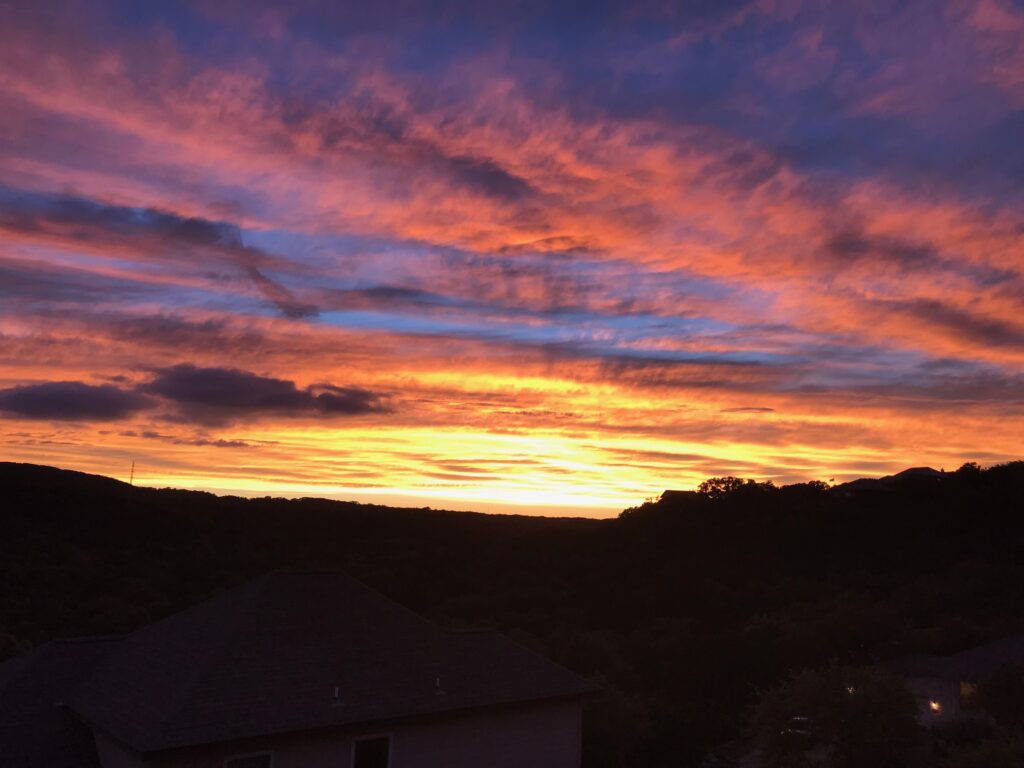 Which is why I am glad we came back to a familiar place. I am working with a different company than when we were here before, and I really have no idea how long this assignment will last, but we are back close to my 88-year-old father and back in an area with friends and activities we know well.
It is weird to return someplace while the pandemic is going on. Since everyone has been segregated from everyone else, it is almost like they don't realize we were gone for three years. I guess when you are used to only seeing people on social media, everyone looks new again! We have fit right back into our social group — I even have been asked to sing with my old gospel quartet again — and it is almost as if we never left.
So, the world is still unsettled and my work is unsettled. We again have a home we love, and while we have moved away from our granddaughters we know we will see them frequently. Video chats help some, but any kind of "chat" with a four- and two-year-old is a crap shoot! We spend most of our time listening to them talk to each other while the phone is pointed at the ceiling or the floor…
We are here. We will heal. And we will have a good time together.
That is the promise we made thirty-five years ago and it is still true today.
But I'm not gonna lie — it hurts.