I have a group of friends that I grew up with. Altogether there are ten of us who lived in the same small town in south Louisiana as kids. Some were there from birth, the rest of us moved in at different times.
What makes this group special is that we still get together every couple of years as a group. We are in the midst of planning the get-together for this summer in North Carolina (NC-17), so it was ironic that this picture popped up on my timeline this morning to remind me of our get-together five years ago.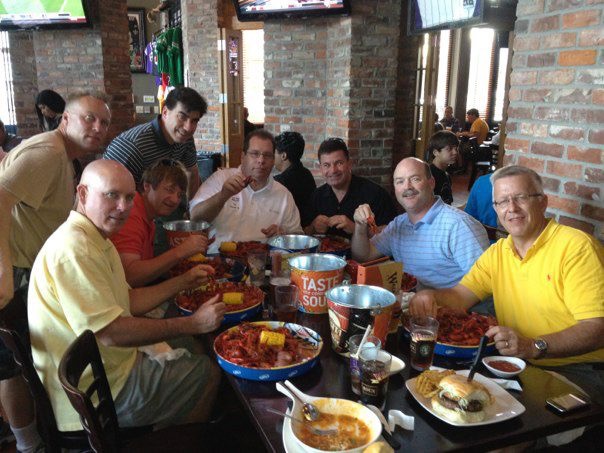 They've held up pretty well for old dudes. When we went to New Orleans on this trip five years ago, half of the group had already turned fifty and the other half of the group was still forty-nine. This led to constant competitions between the two groups to prove the 49-year-olds were hardier than the old guys. It turned what is normally foolishness anyway up a few notches. Well, that and the fact that the wives were not along on this trip to keep us in line.
I have realized over time that the fact that we still get together and that our wives are all friends is really a special thing that doesn't happen all the time. We rarely get all ten of us together but it happened in 2012 and it is looking like it will happen again this year. We all went to the same high school but we went to six different colleges (and seven different professional/graduate schools). We live in seven different states from California to North Carolina and Florida. I'm just saying it's pretty special.
Several of our kids are married, and there's even a grandfather in the group (soon to be two grandfathers). We all have obligations and responsibilities that could serve as excuses not to get together, but we always seem to find a way to make it happen.
I am really looking forward to the trip this summer, and so is Peggy. Looking back today was fun, too.