My son is getting married next March. His future wife has been completing her Masters degree at LSU, and Peggy and I decided to travel to Baton Rouge for her commencement ceremony. My nephew is also receiving his Bachelors degree, so, you know, two birds with one stone.
We had already planned to make the trip for graduation before I accepted the job in Baton Rouge, but now it also serves as a further scouting trip for a place to live. Peggy and I met up with a realtor when we were here for the last interview and spent a day looking at neighborhoods and getting the lay of the land. So, while we are here this weekend we are going to be doing some further research.
If you have ever been to a commencement you know that this is not exactly riveting entertainment. However, we have not forgotten that Caitie attended Mike's college graduation — even if we did not know who she was — so there was no way we were missing hers. We got a nice shot of Mike and Caitie together after the ceremony: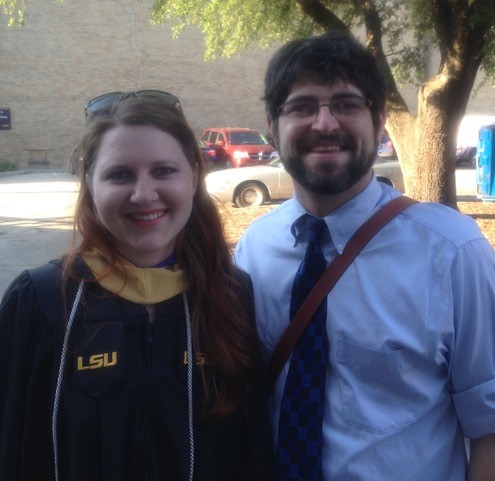 After the second commencement of the day we all commenced to eating and drinking at Rum House, a local favorite know for its varied tacos and libations. I think it is safe to say a good time was had by all, including my 81-year-old father who miraculously had no trouble hearing and carrying on conversations despite the din. During the evening Peggy took this picture of our celebrants.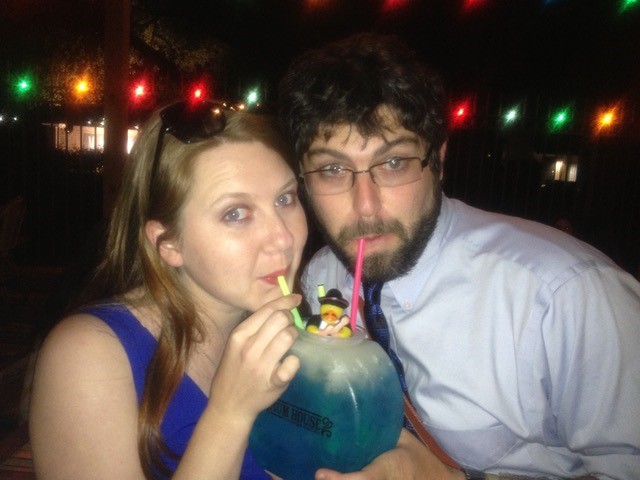 Upon seeing that picture I really have only one comment. We are going to have us some blue-eyed grandbabies.
Peggy and I will spend part of the day tomorrow looking again for a place to live, then we will head back to Austin. I'm still pulling for continuing the downsized lifestyle, but let's just say there are not nearly as many options in Baton Rouge as there are in Austin.
Peggy hates it when I say it, but we'll figure it out.
We always do.